Unified Software brings home the Technology award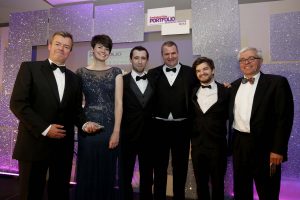 The team at Unified Software were overjoyed to win the Technology Award at the 2015 Sunderland Echo Portfolio Business Awards. Unified have developed BankPay-MS, a unique online Direct Debit and payments management system, helping businesses to streamline their Bacs operations.
The judges were also impressed by Unified Software's amazing client list, which includes customers such as BT, Hastings Insurance and JP Morgan.
The black tie event at the Stadium Of Light was attended by managing director George Barron along with the rest of the team, and all are honoured and delighted to recieve the award.
The team has put a great deal of innovation and hard work into our new product which is due to be launched shortly. This award is a recognition of their outstanding efforts and I am delighted to receive it on their behalf

George Barron
Judges were struck by the overall high quality of all the nominees for this year's awards.
There is) a lot to shout about this year.

We're here to applaud the brightest and best local businesses for the fantastic work they are doing in and around the city.

Councillor Paul Watson
This is the second year that Unified Software has brought home the Portfolio Technology Award, previously taking the accolade in 2008.
Unified Software has been providing high-quality payments processing software and services since 2003.