Unified Software proud to accept Technology award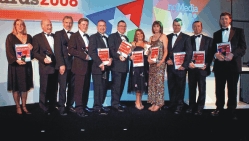 Finance Director Christine Forsyth was delighted and proud to accept the award which recognizes companies that have made use of web technology to enhance their business.

I am delighted to accept this award on behalf of the Unified Software Team. Our team have worked really hard for this. There are some great technology companies in the region, so we were up against stiff competition.

Christine
Judges were very impressed with Unified Software's innovative use of internet technology to improve business performance.
Unified Software announce partnership with COA Systems

Leading financial web services provider Unified Software has entered a partnership with COA Solutions to provide BankVal UK as an optional extra within their financial management system.
COA Solutions has integrated the BankVal software into e5, their financial management system, and plan to role out the software within their financial management, human resource and payroll processing systems.
BankVal adds value to our Smart Business Suite of products. It allows external validation of entered Bank Sort Codes and Account number details against the Industry Sorting Code Directory (ICSD) via a web based SOAP service hosted by Unified Software.

This means, for example, that customer bank accounts can be checked up front, preventing downstream problems, such as a direct debit instruction being rejected by the bank.

Dennis Kirton, e5 and Collaborative Planning Product manager
COA Solutions discovered Unified Software following an extensive period of research into suppliers of bank validation software, Dennis added:
We were immediately impressed with the offering, they have been an ideal solution to what we have required. It provides a modern web based service, as opposed to something our customers would have to install and maintain locally.

The pricing options were also flexible and represent very good value.

Dennis Kirton, e5 and Collaborative Planning Product manager
We have a strong relationship with COA Solutions and are proud to be associated with the company and play a role in their service offering.

Christine Forsyth, Finance Director at Unified Software